Please click on an artist's name (highlighted in blue) to go to their biography page and see their available artworks.
This is not intended to be a comprehensive list of Zimbabwe's sculptors – only artists shown by the Shona Sculpture Gallery are listed here. The list shows artists in alphabetical order of surname in each section.
---
Famous Artists
Shown here are many of the so-called 'first generation' of artists from the Shona sculpture movement. These are the lucky few who achieved international exposure and recognition from the late 1960s onwards. Most of them have now passed away.
Also listed in this section are well-known artists from the 'second generation' who followed them. Happily, most of this cohort of Zimbabwean sculptors are still with us.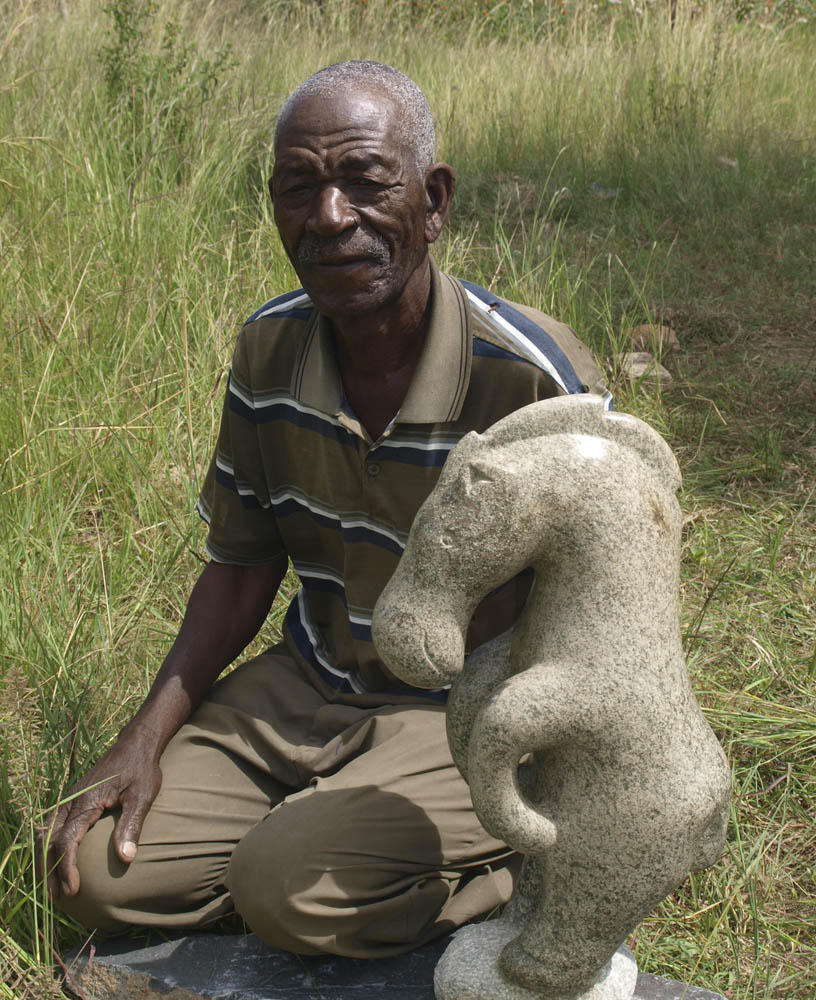 Ephraim Chaurika was born in Guruve, northern Zimbabwe, in 1940. He joined Tom Blomefield's Tengenenge Art Community in 1966. Now over 80, Ephraim has a worldwide following and is particularly well-known for his endearing sculptures of horses.
Selected international exhibitions:
'Contemporary Stone Carving From Zimbabwe', Group Exhibition (organised by Chapungu Gallery), Yorkshire Sculpture Park, UK (1990)
'Fanizani and Chaurika', Two Man Exhibition, Chapungu Sculpture Park, Harare, Zimbabwe (1989)
He is also featured in (and on the cover of) the book 'Myth and Magic: The Art Of The Shona Of Zimbabwe' by Joy Kuhn, and the definitive text on the first generation, 'Sculptors From Zimbabwe' by Ben Joosten.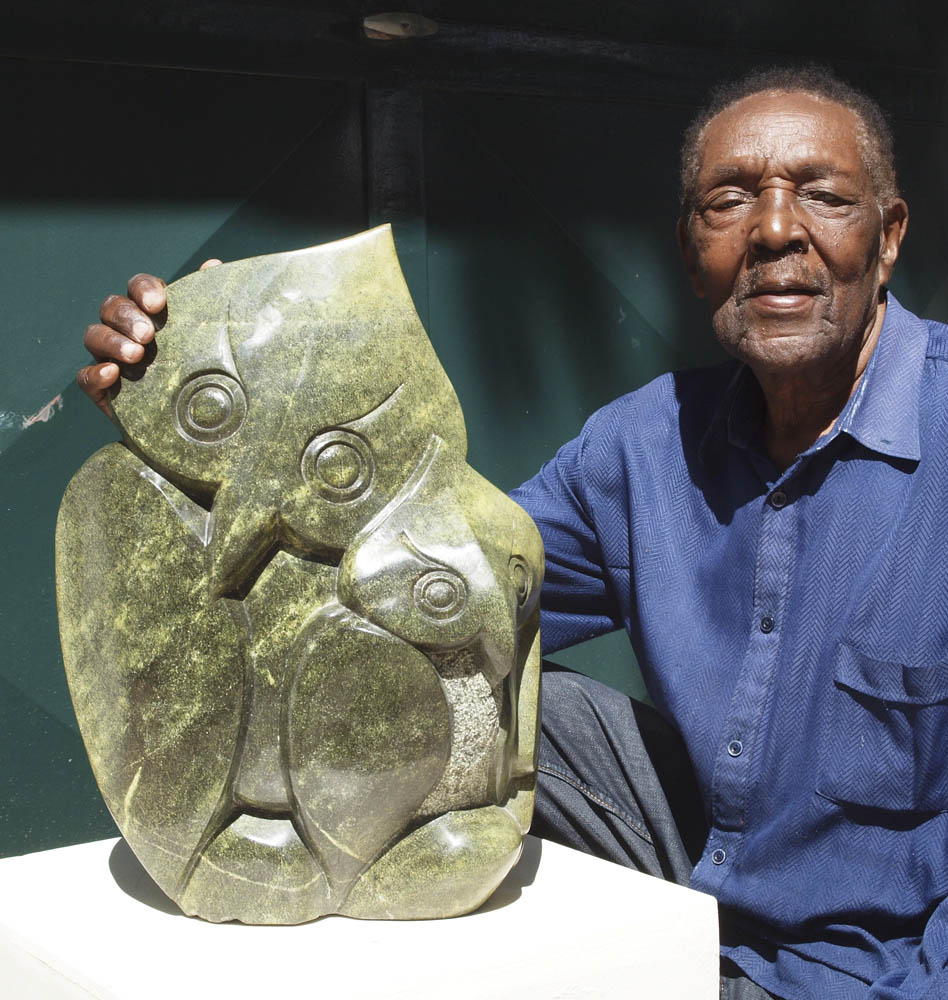 Edward Chiwawa was born in Guruve, northern Zimbabwe, between 1916 and 1932. He began sculpting in 1970, encouraged by his cousin Henry Munyaradzi, who was already an established artist at the Tengenenge sculpture community.
In the late 1970s, the war of independence forced Edward to join the National Gallery in Salisbury (now Harare). He sculpted there as a member for over 20 years.
Numerous international exhibitions and awards, including: First prize, '7th International Small Sculpture Exhibition', Budapest, Hungary (1986)
He is also featured in a number of authoritative books including 'Shona Sculpture in Zimbabwe' by Celia Winter-Irving and 'Shona Sculpture' by Ferdinand Mor.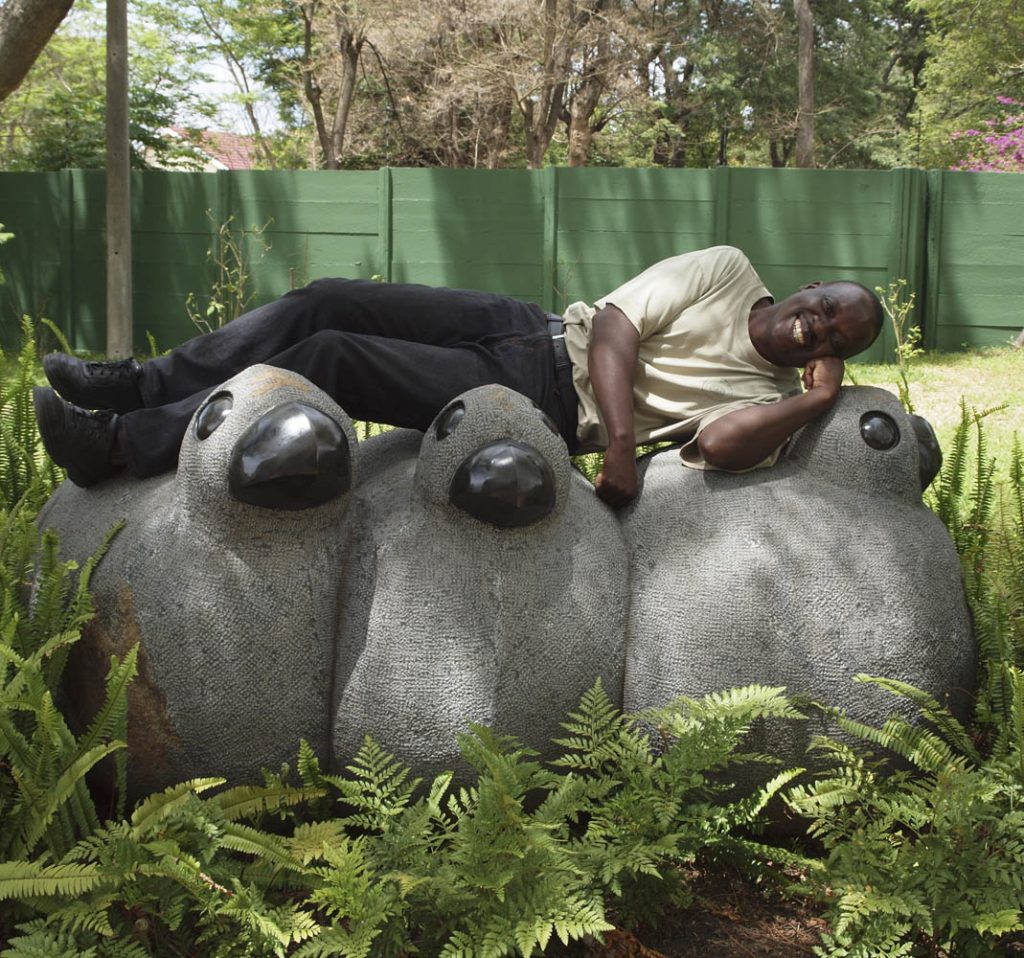 Royal is particularly well-known for his charming chubby sculptures of quails, finished using a clever technique (almost like pointillism) to give the impression of the birds' feathers.
He was born in 1972 in Murehwa in eastern Zimbabwe. He started sculpting as a schoolboy, and he trained with Luke Mugavazi and later Anderson Mukomberanwa, son of the inspirational Nicholas Mukomberanwa.
In 1996, Royal Katiyo was selected to join the prestigious Chapungu Sculpture Park as a Resident Artist. Group exhibitions include:
Artist In Residence, Group exhibitions at Missouri Botanic Gardens and Denver Botanic Gardens, USA (2007)
'Custom and Culture: A Legend in Stone', Kew Gardens, London, UK (2000)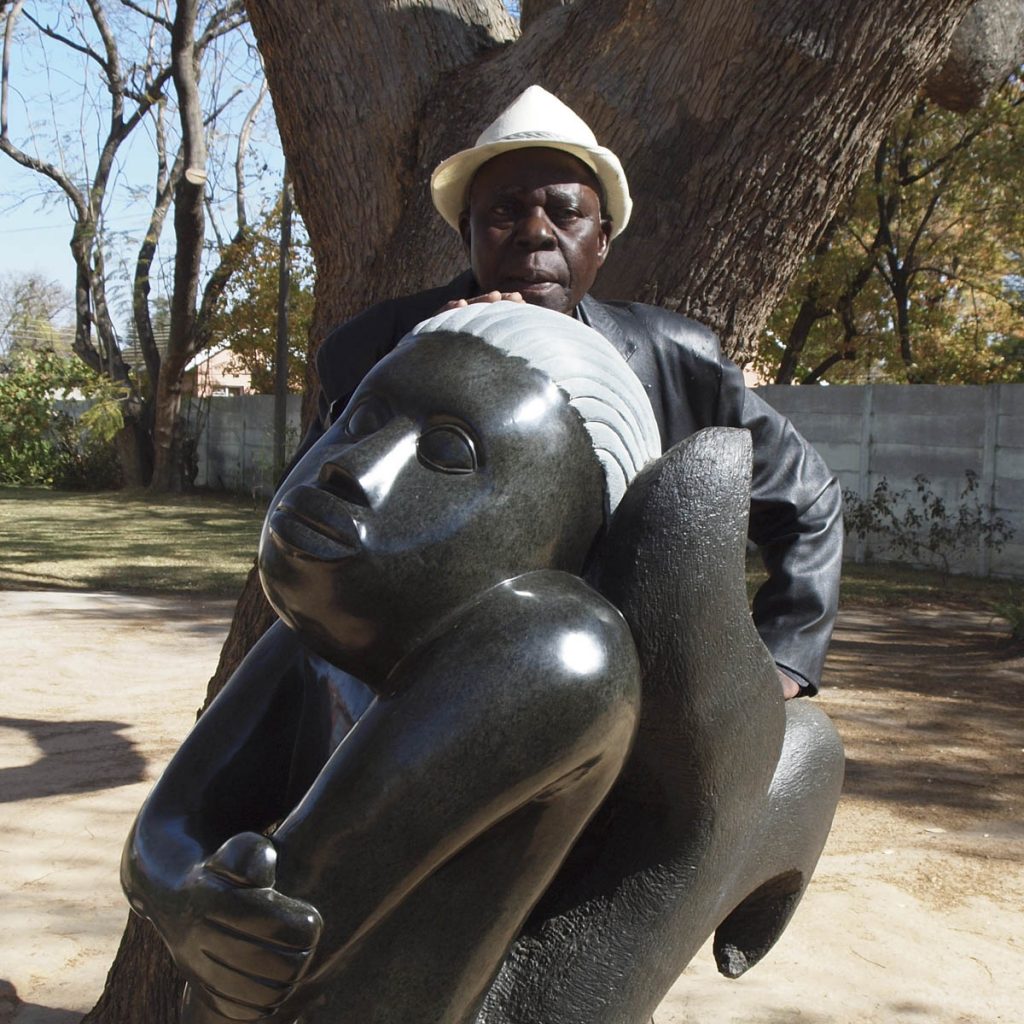 Sylvester was included as one of the top ten sculptors in the world by The Guardian in 1991.
Sylvester Mubayi was one of the great names of modern Zimbabwean sculpture. He began sculpting in the 1960s at the Tengenenge sculpture community in northern Zimbabwe. Later, he was invited to be a resident artist at the National Gallery by its influential first director, Frank McEwen. Sylvester was a founder member of the new sculpture community established by McEwen in Vukutu (eastern Zimbabwe), where he did some of his finest work.
His life and work was guided by Shona beliefs and traditions, and as an elder he taught and advised the younger members of his community through metaphor and storytelling – and his sculptures always told a story as well.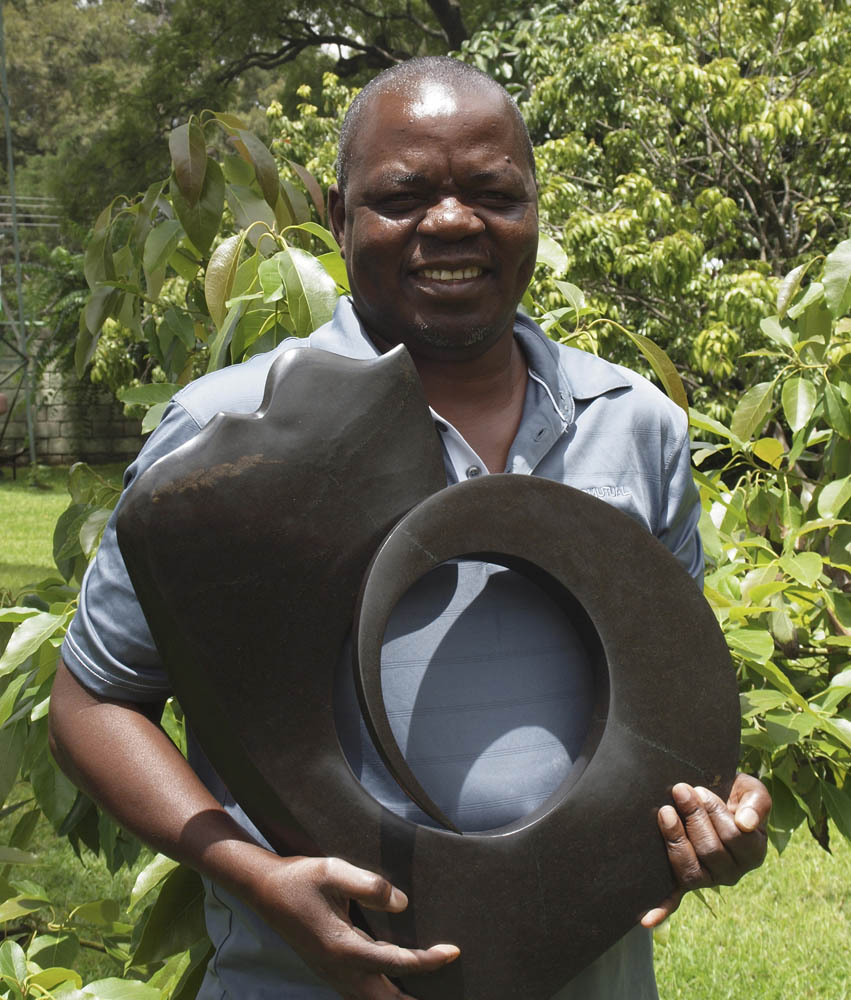 Nesbert Mukomberanwa was born in 1969 in Buhera, central Zimbabwe. In 1987, he began to study sculpture with his uncle Nicholas Mukomberanwa, one of the most famous and internationally respected artists of the Shona sculpture movement.
By 1989, Nesbert had gained enough experience to begin working alone. He left his apprenticeship and worked from home, developing a distinctive style and gaining international recognition.
Group exhibitions include:
Reece Galleries (USA) with Henry Munyaradzi and Nicholas Mukomberanwa amongst others (2005)
'Form versus Content', Franco-Namibian Cultural Centre, Windhoek, Namibia (2004)
Group exhibition and solo workshop in Memphis, USA (organised by Matombo Gallery, Harare) (2002, 2003)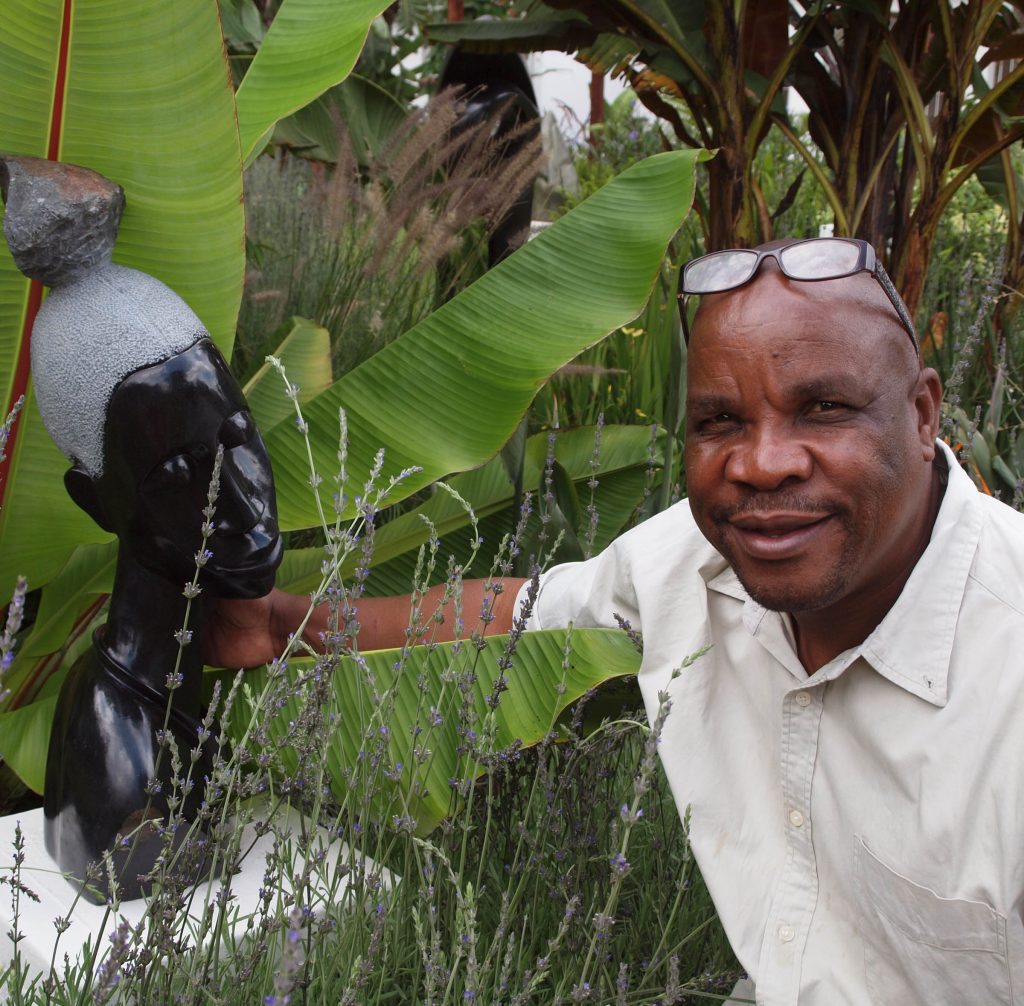 Joe Mutasa is one of the most prominent names of the second generation of Zimbabwean sculptors. As a sculptor with over 30 years' experience, he has travelled widely as a resident artist at a number of high-profile international exhibitions. His work has also been featured in innumerable local and international joint and solo exhibitions. His graceful sculptures with their fine proud features are instantly recognisable and much sought-after by collectors worldwide.
Group exhibitions include Kirstenbosch Botanical Gardens, South Africa (1997-8) and 'Custom and Culture: A Legend in Stone', Kew Gardens, London, UK (2000). Joe was a Visiting Artist at Art in Action, Waterperry Gardens, UK (2003).
---
More Artists from Zimbabwe
The Shona Sculpture Gallery has hand-picked a selection of young Zimbabwean artists. Here, we showcase the most talented sculptors of the younger generation.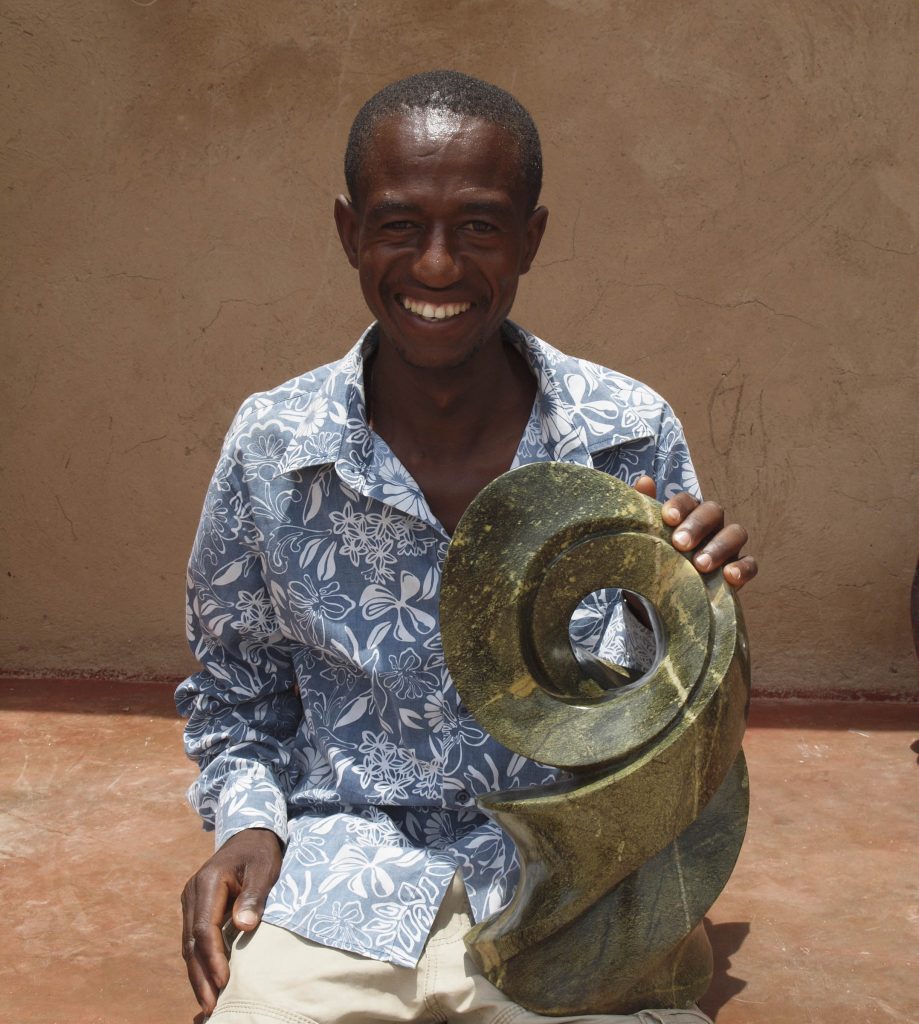 "In my opinion, loving a hobby is the precondition for any positive development. If you like doing [something] and you do it well, then continue doing it for the rest of your life."
Willard Bopoto was born in the small town of Guruve in northern Zimbabwe. At primary school, his favourite lessons were art and craft. Guruve has rich serpentine deposits, and he spent much of his childhood experimenting in stone sculpture.
At secondary school, Willard's passion for art continued unabated. He sold some small pieces, which reinforced his self-belief; so, when he left school, he began sculpting full-time.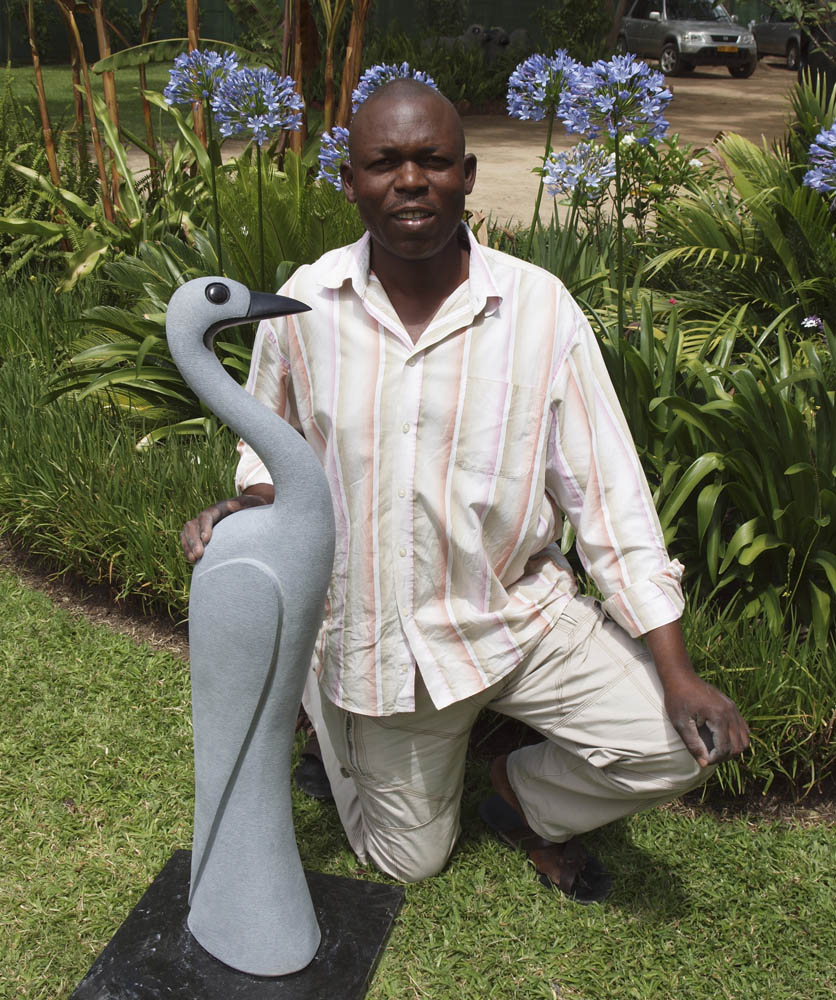 Peter Chidzonga was born in 1979 in Chiweshe in northern Zimbabwe. He was raised by his grandparents. Sadly, Peter never completed his primary education due to lack of money.
He began sculpting in 1991, against his grandparents' wishes. Once he'd sold his first piece for a good price they suddenly became more supportive!
Peter's work has been shown in galleries in Canada, UK, USA, the Netherlands, France and elsewhere, as well as at various galleries in Zimbabwe. Peter Chidzonga spent three months in Calgary, Canada in 2007, exhibiting his work and running sculpture workshops.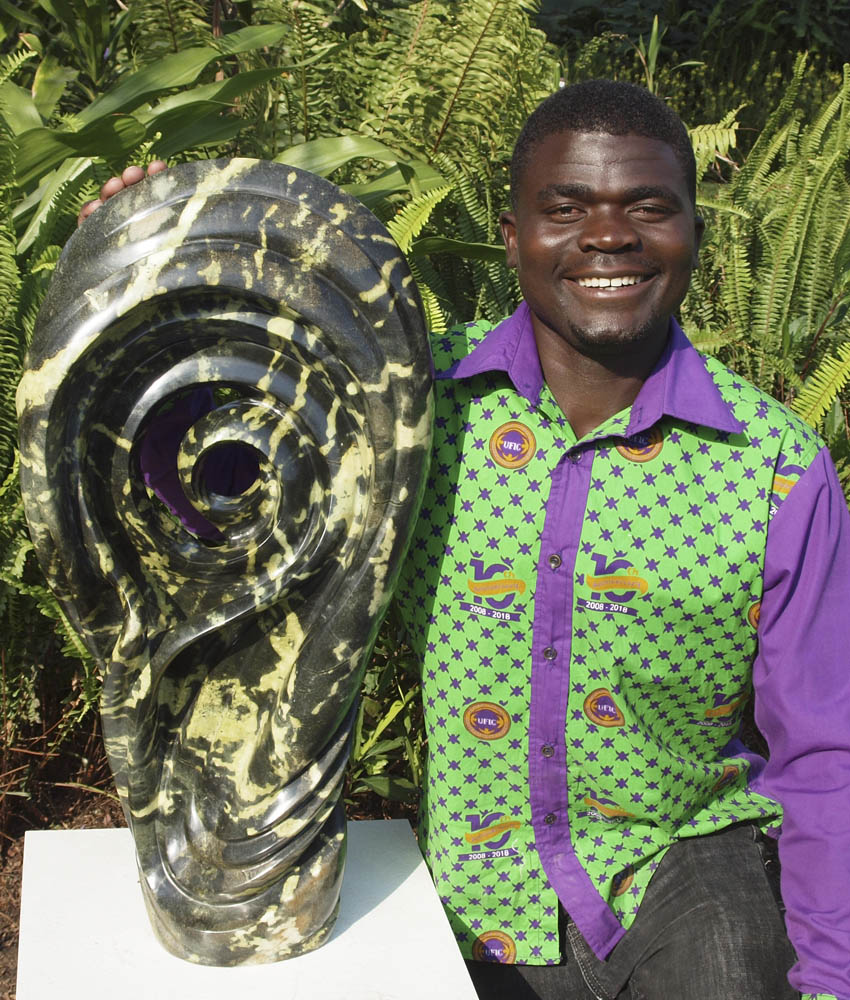 Remembrance Chikuruwo was born in 1989 in Chivhu in central Zimbabwe. He is one of six siblings, the only boy amongst five sisters!
Remembrance's father Simoriro Chikuruwo encouraged his son to try stone sculpture. Simoriro has been a sculptor for many years, and owns a serpentine mine in his kumusha (rural home area); he is also a traditional healer and an important figure in the local community.
His childhood in the sango (bush), and his father's deep connection to Shona beliefs and traditions, means Remembrance is deeply connected to nature and Shona spirituality.
Ishmael Chitiyo (1982-)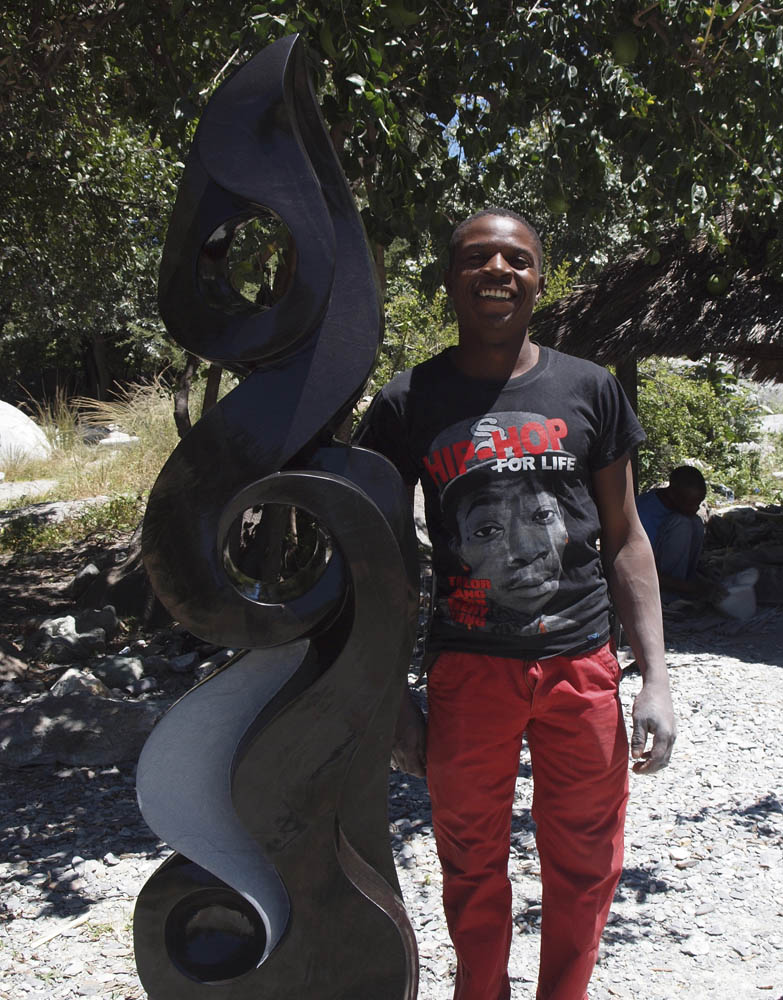 Ishmael Chitiyo was born in 1982 in Chitungwiza, a satellite town of Harare, Zimbabwe. Both his parents passed away when he was a child, so when he left school at age 16 his options were very limited.
His brother taught him how to sculpt; then for a few years he assisted other artists. When he had gained sufficient experience and confidence, Ishmael began to work alone.
Group sculpture exhibitions include:
one of three finalists in the 3D visual arts category in the 2008 National Arts Merit Awards (NAMA) awarded by Zimbabwe's National Arts Council
Certificate of Excellence, Kristin Diehl Sculpture Prize, German Embassy, Harare, Zimbabwe (2006), Ishmael was chosen as one of the top ten artists, whose works formed a 6-day exhibition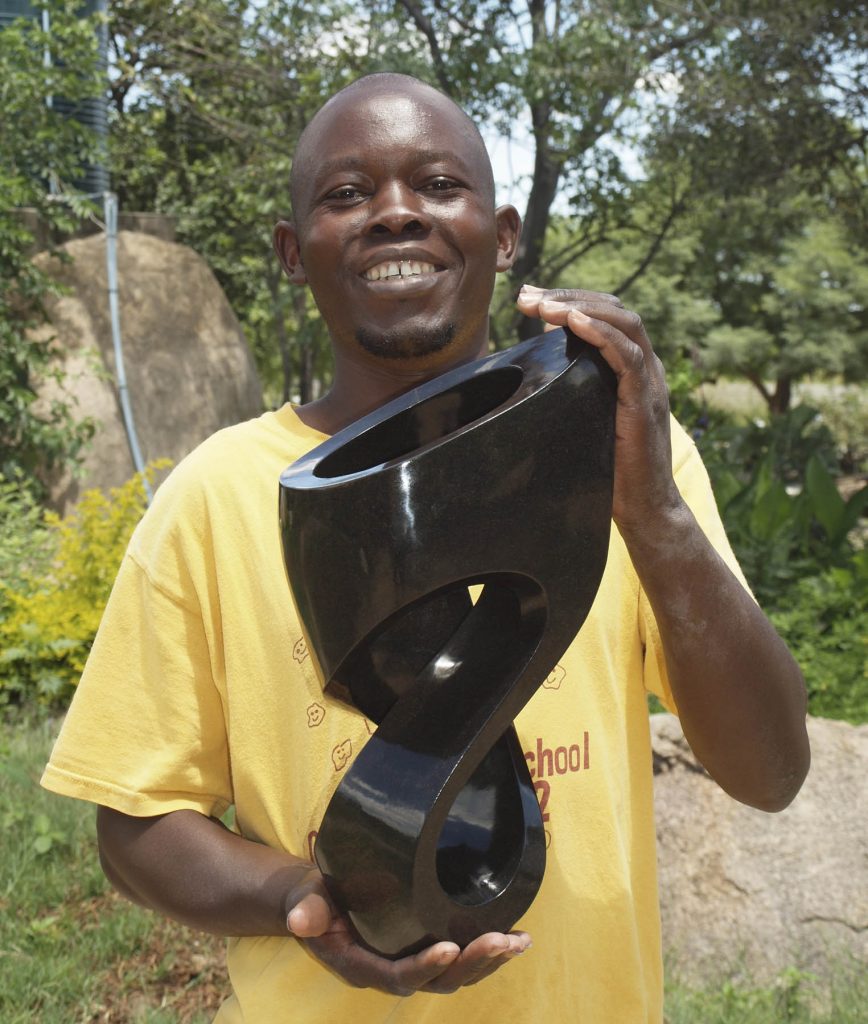 Munyaradzi was born in Chivhu, central Zimbabwe. In 1995, he started sculpting as an apprentice to his uncle, the world-famous 'first generation' Zimbabwean sculptor Nicholas Mukomberanwa. Later, he also worked with another respected artist, Albert Mamvura. From 1998, he has worked independently.
In Oct 2013, Munyaradzi won third prize in the Art exhibition and competition 'Celebration', held at the Chitungwiza Arts Centre to celebrate its 15th Anniversary.
Munyaradzi's work has been exhibited in South Africa, UK, Germany, United States of America, and Canada amongst others.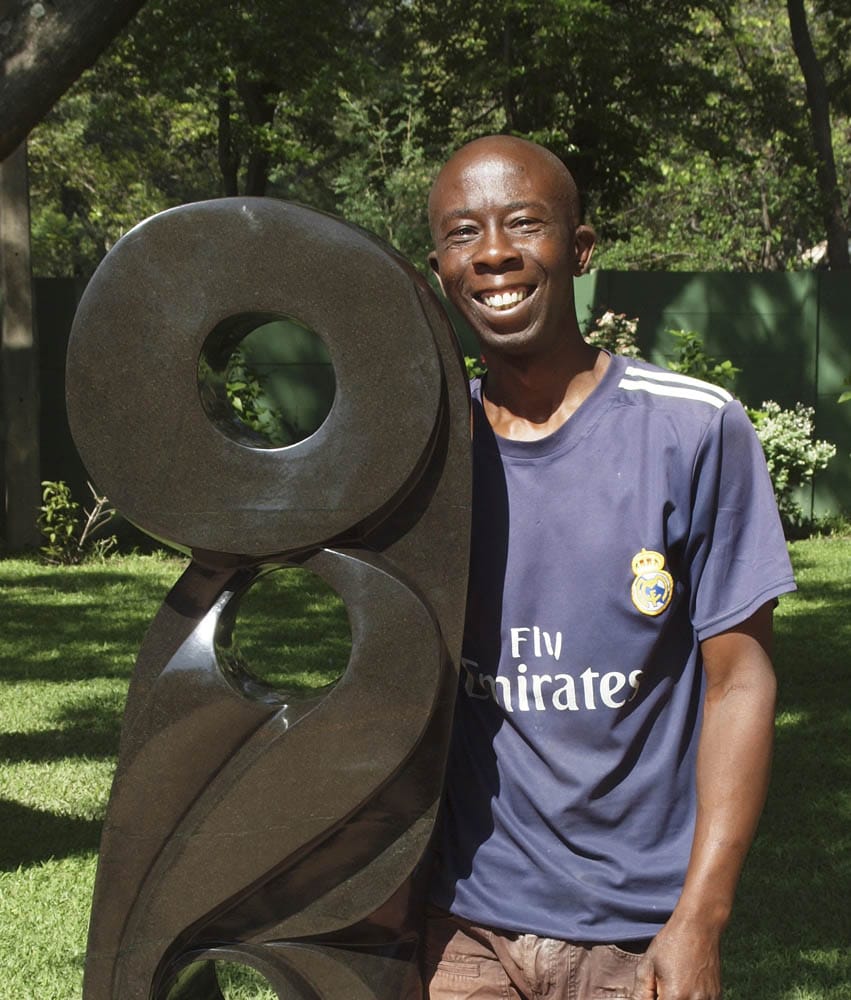 In 1992, at the age of 19, Antony became an apprentice to a well-known Zimbawean artist, the late Albert Mamvura, helping to sand and polish his sculptures. After five years working with Mamvura, Antony had the confidence and experience to begin sculpting by and for himself.
He is part of a dynamic and competitive new generation of sculptors. Although greatly impressed by the work of older generation of Zimbabwean sculptors, he has fought hard to establish his own style and reputation, and this has paved the way for his success.
Antony Masamba's work is outstanding, not just in his creativity and technical ability, but also in his attention to detail. All his pieces are perfectly finished and beautifully polished so that they are wonderful to touch as well as to view.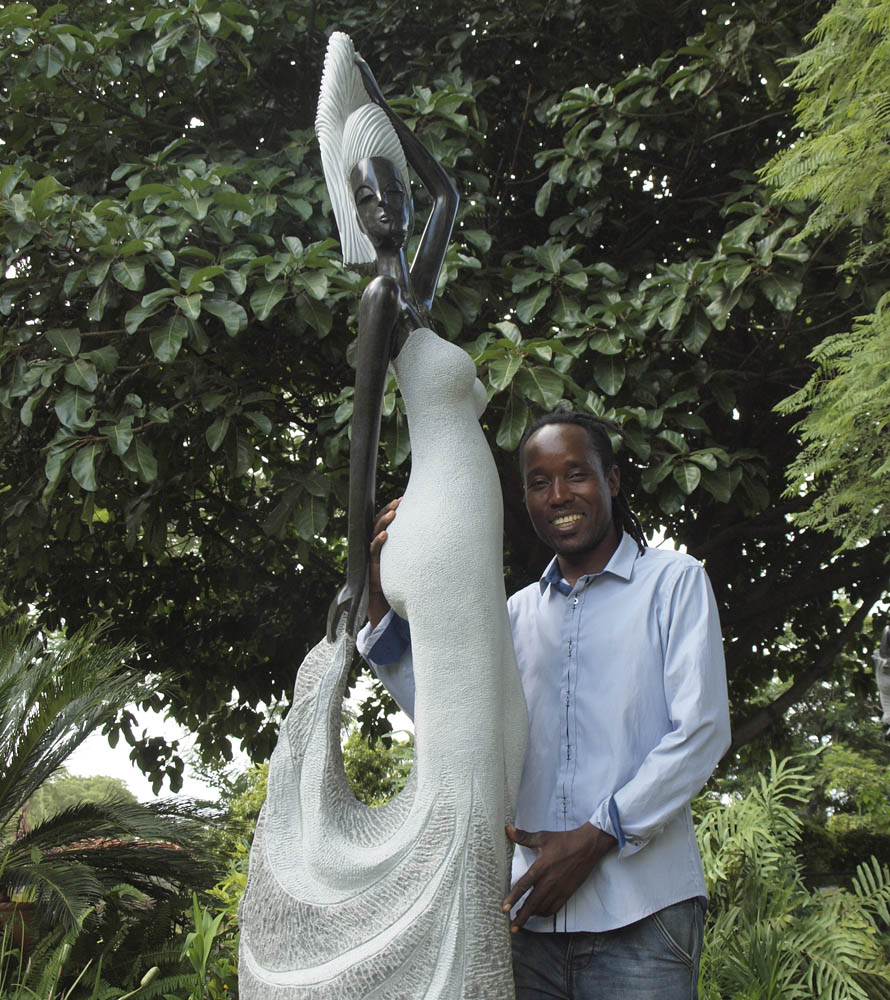 Tutani Mgabazi was born in 1975 in Guruve, northern Zimbabwe. At school, his favourite lessons were art and craft. His uncle Francis Mugavazi, a well-known sculptor, taught him how to sculpt.
While he was still at secondary school, Tutani's pieces had already been displayed in the National Gallery of Zimbabwe. So when he left school in 1992, he went straight into being a sculptor. He staged a joint exhibition together with his uncle Luke Mugavazi in 1993, which marked the start of his career as a professional sculptor.
Selected Group Exhibitions include:
Represented Zimbabwe at the International Sculpture Symposium, Obernkirchen, Germany (2000, 2006 & 2015)
Two-man exhibition with Luke Mugavazi, Ramambo Lodge Gallery, Harare, Zimbabwe (1993)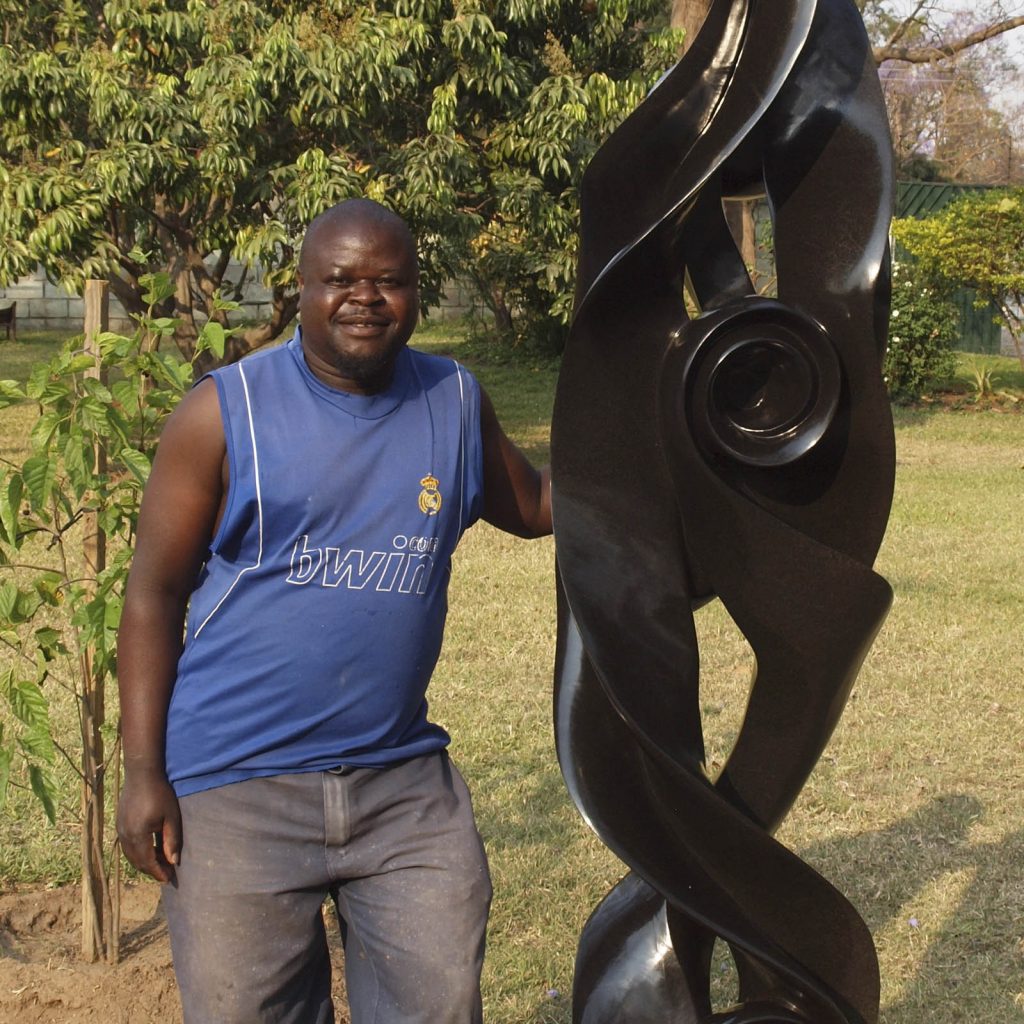 Onias was born in Rusape in eastern Zimbabwe. He moved to Harare in 1997, where his uncle Richard Mupumha encouraged Onias to try stone sculpture under his guidance. Onias started doing his own sculptures in 1999 and is now a well-established artist with many international patrons.
Onias Mupumha won the sculpture category in the visual arts section of the 2008 National Arts Merit Awards awarded by Zimbabwe's National Arts Council.
Well-deserved national recognition from Zimbabwe's arts elite for one of the brightest stars in a new generation of talent.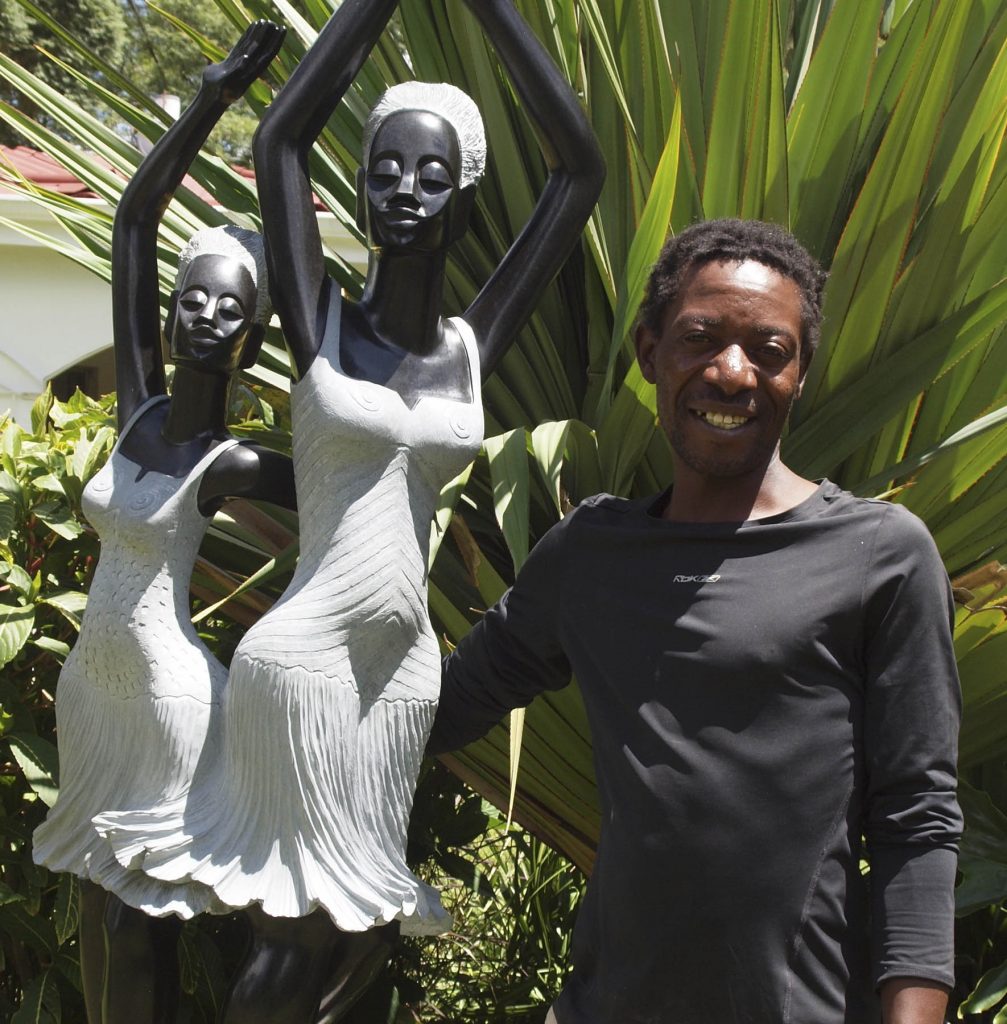 "At the moment it seems the sky is the limit."
Rufaro Murenza was nominated for a fifth year as a finalist in Zimbabwe's National Arts Merit Awards (NAMA) in 2020, a record achievement.
Rufaro was a deserving winner of the 3D sculpture category of the 2015 NAMA awards. He was also a NAMA finalist in 2017, 2016 and 2014.
Rufaro worked for many years with well-known 'second generation' artist Joe Mutasa. In 1998, they both attended a granite carving workshop hosted at Chapungu with renowned artist Joram Mariga and two visiting Japanese sculptors.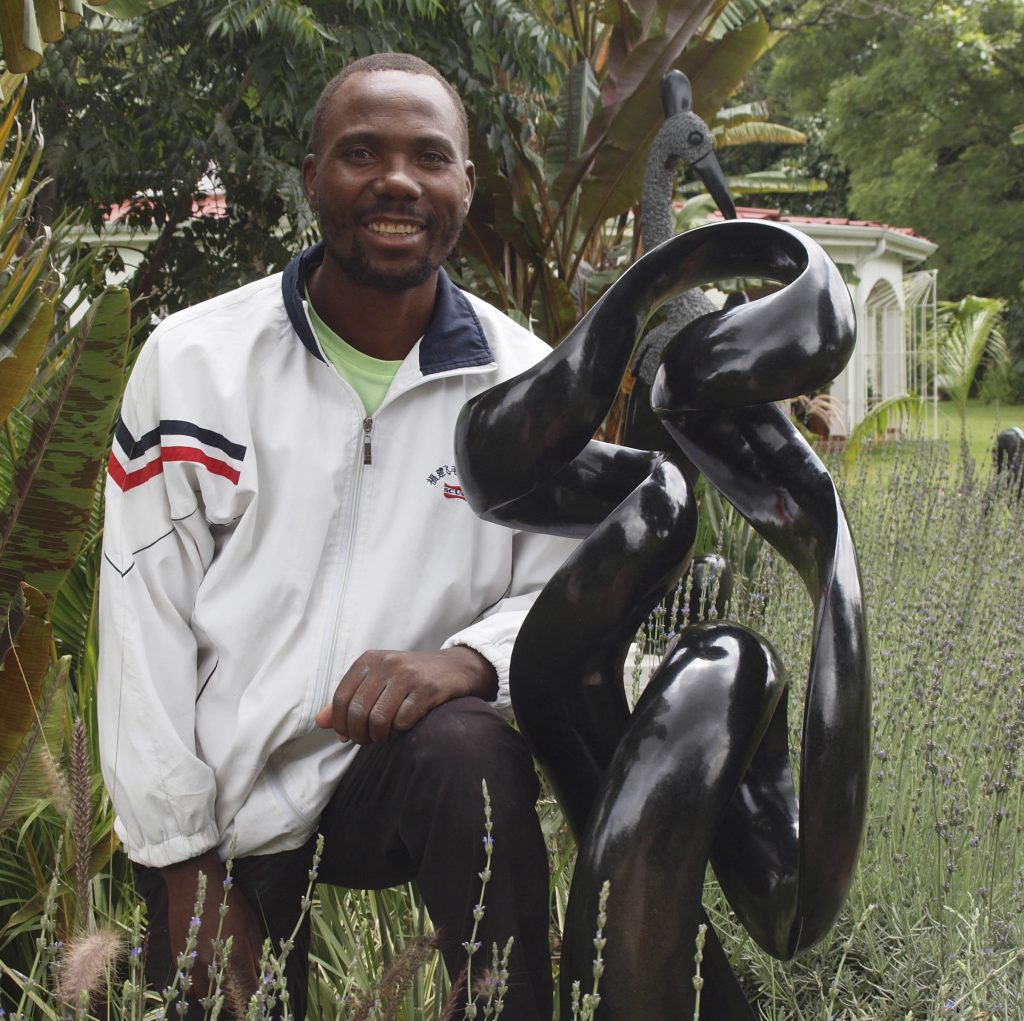 Tonderai Sowa was born in Nyanga in eastern Zimbabwe. He began sculpting with his step-father, Julius Chinhoyi, in 1995. He took the decision to work alone as a full-time artist in 2002.
Tonderai's career has accelerated in leaps and bounds. Recent highlights include:
Oct 2013 – second prize in the Art exhibition and competition 'Celebration', held at the Chitungwiza Arts Centre to celebrate its 15th Anniversary
Feb-Apr 2014 – one of four Zimbabwean artists (along with Itayi Mupumha) invited to participate in an Artist Exchange at Sonkala Yonkala in Luanda, Angola with Angolan artist Jao Mayembe
---